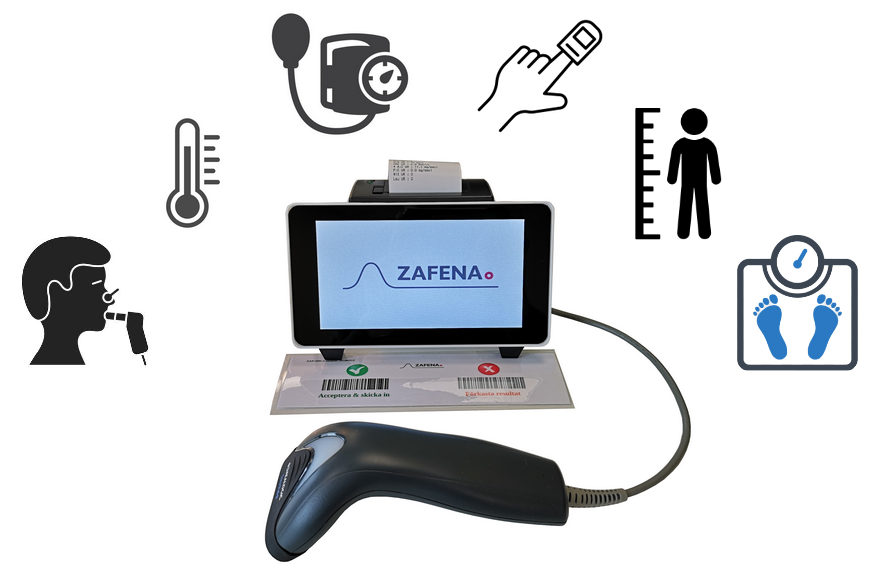 A workstation, specially designed for the doctor's office, including everything you need for your examinations.
Experience the simplicity of digitizing measurement results, from all* the world's Medtech, via Zafena's general connection point for instruments, meters and sensors.
Tomorrow's Medtech will only be smaller, more intuitive, with higher accuracy, but above all, wireless. POC-Workstation from Zafena connects all equipment for analysis at the workplace through one method for digitizing analysis results. More time can be devoted to the patient, during visits, as the POC-Workstation collects all measurement results, without the doctor having to shift focus from the patient.
Measurement results can either be made one by one, or several optional in panel.
Zafena offers general connection point for all* MedTech (Instruments, meters and sensors): Zafena POC-Workstation
Zafena also offers meters with the following analyzes, all of which have full IT support through Zafena POC-Workstation:
Blood pressure (SYS, DIA, IHR), Temperature (Ear), Temperature (Forehead), Body weight, Heart rate, Oxygenation, Spirometry (PEF, FEV1)
Can't find what you're looking for? You can choose any instrument, meter or sensor * to connect via our general connection point, POC-Workstation.
(* The device must provide the result digitally in some form)
2021: Over 80 instruments, meters and sensors, from almost 40 manufacturers are integrated in Zafena's general connection point,
POC-Workstation. Integrated, plug-n-play, medtech from below manufacturers: